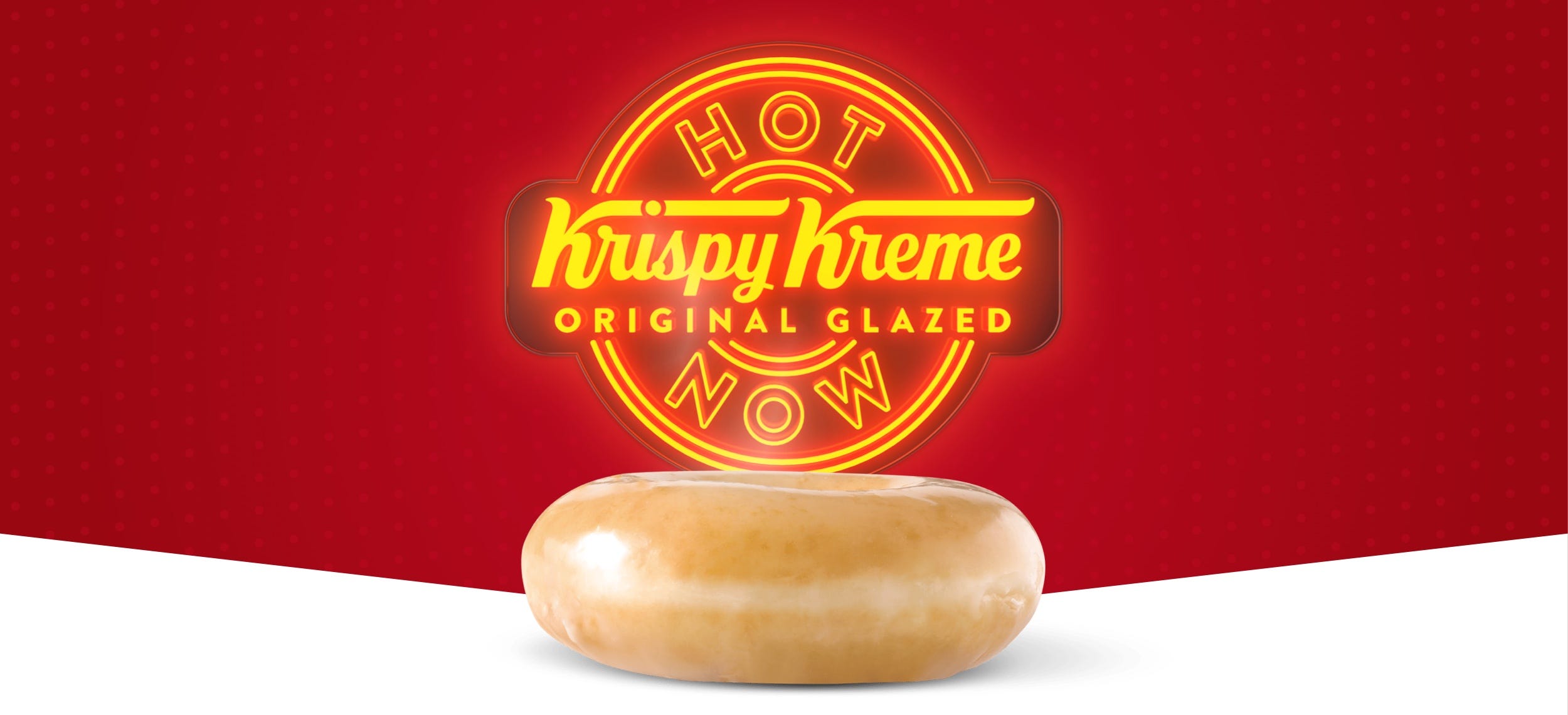 Discover the magic of HOT Original Glazed
GET IT WHILE IT'S HOT
When the Hot Now sign is glowing red, you know it's time to visit one of our Hotlight shops to enjoy a melt-in-your-mouth HOT Original Glazed doughnut, fresh off the line.
The magic takes place every single day during our 'Hot Now Hours' both in shop and through the drive thru at our Hotlight shops.
Your Hotlight SHOPs
You can find our Hot Now hours by tapping on the Hotlight shop name below. Please note that times may vary:
Krispy kreme hotlight hour fans
HOTLIGHT TERMS AND CONDITIONS ...
Hotlight is available in these Hotlight stores daily between 7pm - 8pm: Bluewater, Braehead, Bristol Avonmeads, Edinburgh Hermiston Gait, Leeds Birstall, Manchester Trafford, Peterborough, and Shannon Corner. Hot Original Glazed doughnuts only available for customer purchase between 7pm – 8pm every day during "Hotlight".
Hot Original Glazed samples may be offered with purchase during Hotlight hour but this is entirely down to the discretion of the store manager. Hot doughnuts are subject to VAT and are therefore charged at a higher price to non-hot Original Glazed doughnuts.
Hotlight hour may not be available on peak days for example Halloween, Christmas and Valentine's day or during the exceptional occurrence of machine breakdowns.
Krispy Kreme will endeavour to give as much notice as possible to any changes to Hotlight hour via it's website and social media channels. Hotlight hour will be reintroduced to Krispy Kreme on 1st September having been shut during the peak of the Covid 19 crisis.
A new series of safety measures have been introduced in our stores to enable Hotlight hour to run safely for our team and customers. Anyone not observing these safety measures may be asked to leave the store at the discretion of the store manager.