Krispy Kreme
SERVING SMILES!
We've all been asked to do our bit. To stay at home and patiently sit. To social distance. To wash our hands. To clap for carers. To call our grans. Big or small we all have our part to play. And ours? It's delivering moments of joy each day. Now more than ever you all deserve a treat. And we want to remind you that life can be sweet. So we are back up and running throughout the British Isles. We are here to serve. Here to serve smiles.
Introducing our initiative for Community Heroes!
Each month we'll be saying a sweet Krispy Kreme thank you to a different selected hero group in the form of 50% off any in-store dozens purchase.
From now until the end of March 2021 we are saying big thank you to our frontline workers! We know these customers are out and about keeping us safe, healthy, fed, connected and happy every day, so each Wednesday these heroes will be eligible for 50% off any dozen in a Krispy Kreme store.
Simply go into store with your ID badge to redeem the offer.

Must be aged over 18. Offer is valid in Krispy Kreme stores only.

For full T&C's see below and click here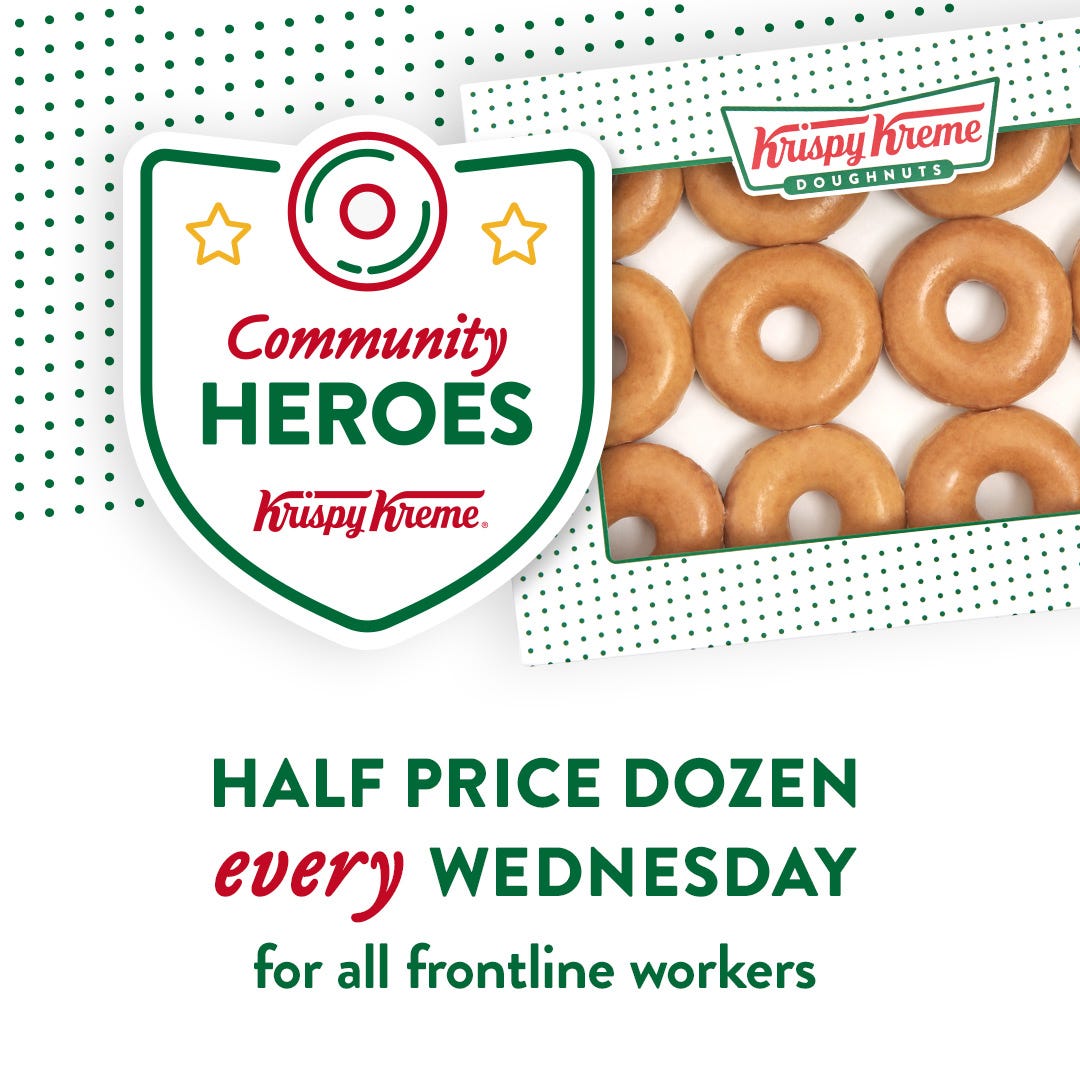 Terms and Conditions
Offer entitles frontline workers* to 50% off any dozen purchased in a Krispy Kreme UK store. To redeem this offer simply show your ID badge, come in wearing uniform or tell the store team where you work to redeem the offer. This offer is valid for 18 and over only.
This offer is valid Wednesday's in February – 3rd, 10th, 17th, 24th and the following Wednesday's in March – 3rd, 10th, 17th, 24th, 31st 2021 during store opening hours. Offer is limited to one dozen purchase and can be redeemed no more than once per person, per day.
This offer is valid in Krispy Kreme UK stores only, excludes Tesco, Morrisons, Asda, Sainsbury's, Bentalls, Selfridges, Service Stations, Center Parcs, Krispy Kreme Online and Delivery, University locations, Uber Eats, Deliveroo, Just Eat.
This offer cannot be used in conjunction with any other discount or promotion, including Double Dozen deal.
Offer strictly subject to availability and Krispy Kreme UK reserves the right to change, cancel or amend offer at any time.
*Frontline workers includes
Health and social care workers
Doctors, nurses, midwives, paramedics, social workers, care workers, and other frontline health and social care staff, including volunteers.
Education and childcare
Teachers, nursery staff and social workers.
Key public services
Those running the justice system, religious staff, charities and workers delivering key frontline services. It also includes journalists and broadcasters in public service broadcasting.
Local and national government
Administrative staff essential to the COVID-19 response, or delivering essential public services like benefits payment.
Food and other necessary goods
Anyone involved in food production, processing, distribution, sale and delivery.
Public safety and national security
Police, Ministry of Defence civilians, armed forces workers, fire and rescue staff, National Crime Agency staff, border security, prison and probation staff and other national security roles.
Transport
This includes those who will keep the air, water, road and rail passenger and freight transport modes in operation during the coronavirus response.
Utilities, communication and financial services
Essential staff to keep the oil, gas, electricity, sewerage and water sector running. Key staff in the civil nuclear, chemical and telecommunications sector, along with postal and delivery services plus essential workers in the financial district.