Krispy Kreme
SERVING SMILES!
We've all been asked to do our bit. To stay at home and patiently sit. To social distance. To wash our hands. To clap for carers. To call our grans. Big or small we all have our part to play. And ours? It's delivering moments of joy each day. Now more than ever you all deserve a treat. And we want to remind you that life can be sweet. So we are back up and running throughout the British Isles. We are here to serve. Here to serve smiles.
#SERVINGSMILES
To help show our deep appreciation and support for the work critical key workers are doing in the battle against COVID-19, we're re-opening our first production site from today, solely to serve frontline and community heroes.
We've pledged to serve half a million 'smiles', through the delivery of half a million of our signature original glazed doughnuts to hospitals, charities, food charities and food banks, police stations, carers and other critical key worker groups.
With this small gesture, we hope to bring even a brief moment of much needed lightness to those who are working tirelessly against the pandemic.
Updated on 11th May
We did it! We served half a million 'smiles' in the form of half a million Original Glazed doughnuts, with your help nominating the amazing heroes working so hard in the battle against COVID-19.
Our frontline heroes & keyworkers are all truly amazing and we thank you from the bottoms of our hearts.
We will continue to serve more smiles each week to support amazing causes during the crisis and are now offering all NHS workers, policeman and firefighters 25% discount off our entire menu"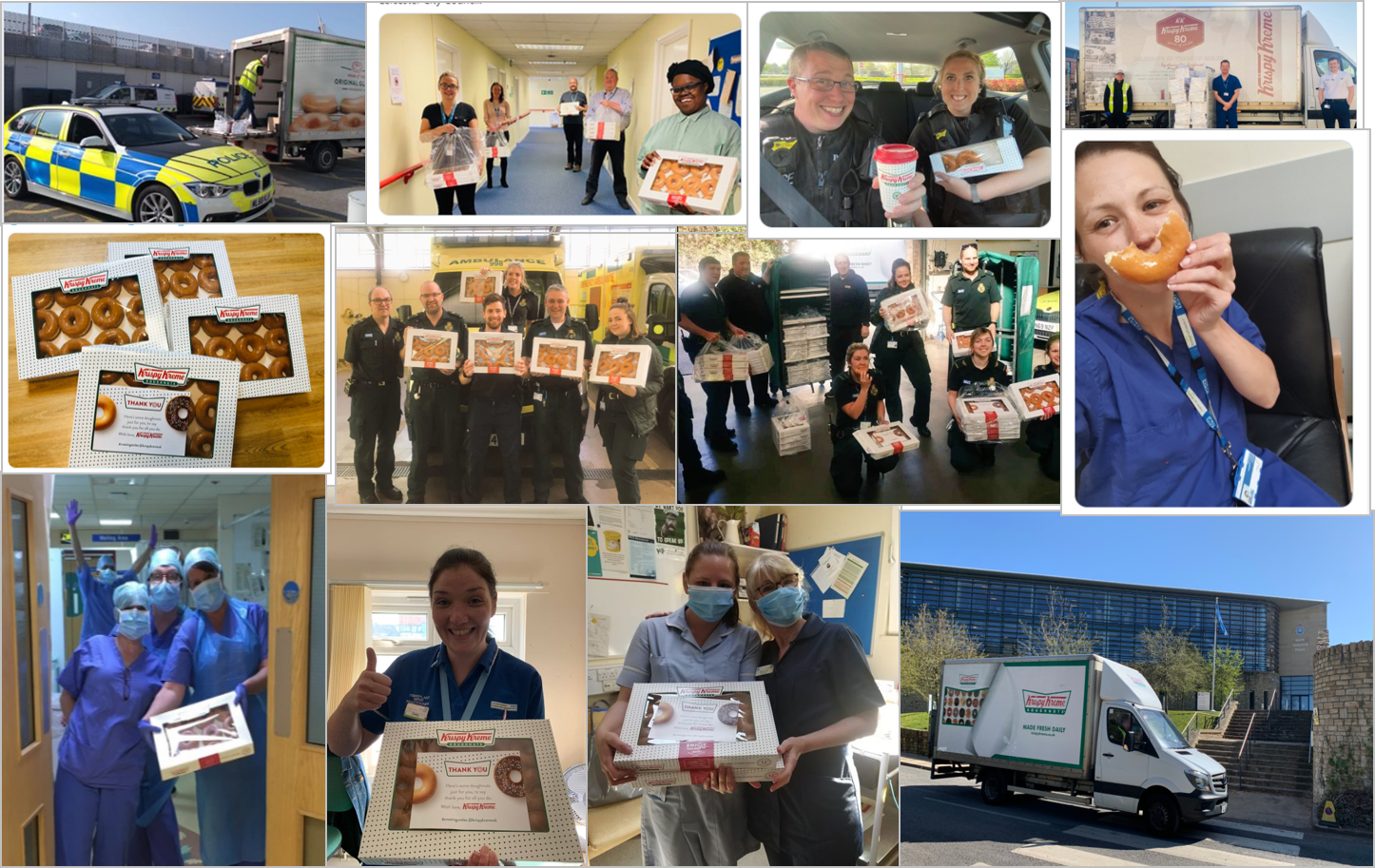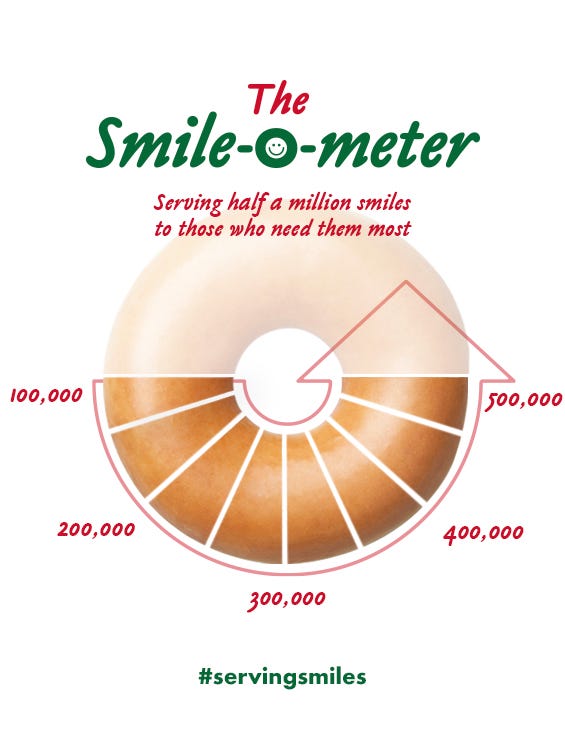 25% off FOR CRITICAL SERVICE WORKERS
T&Cs
To claim at store, show ID.
To claim online send proof of employment to [email protected] and we'll send a unique code to use online.
Code cannot be used with gift card, doughnut wall, tower, boxed singles, Krispy Kreme Creations Kits or Handpiped Half Dozen purchases.
Excludes Tesco, Morrisons, Asda, Sainsbury's, Service Stations, Center Parcs, Krispy Kreme Occasions, University locations, Uber Eats, Deliveroo, Just Eat
Offer entitles NHS, fire service, and police workers to 25% off all Krispy Kreme products purchased via the drive thru or in store. This offer is available to NHS, fire service, and police only. ID Badges cannot be used to collect on behalf of other people. Please note, the Blue Light Card is not accepted as a proof of ID. Offer can be redeemed no more than once per person, per day.
Offer strictly subject to availability and Krispy Kreme UK reserves the right to change, cancel or amend offer at any time. The Promoter reserves the right to refuse service to anyone who appears to not be acting within the terms or spirit of the promotion. #ServingSmiles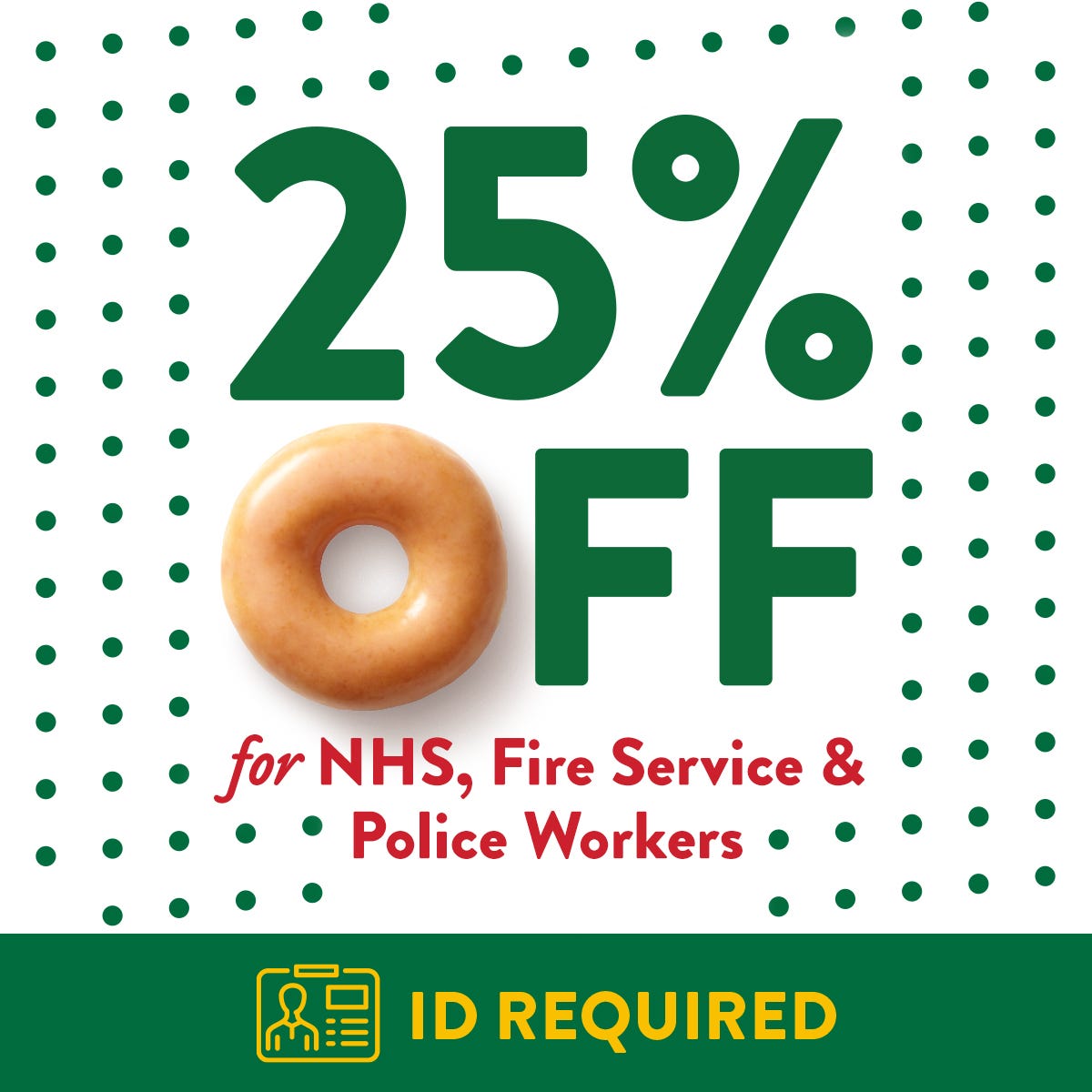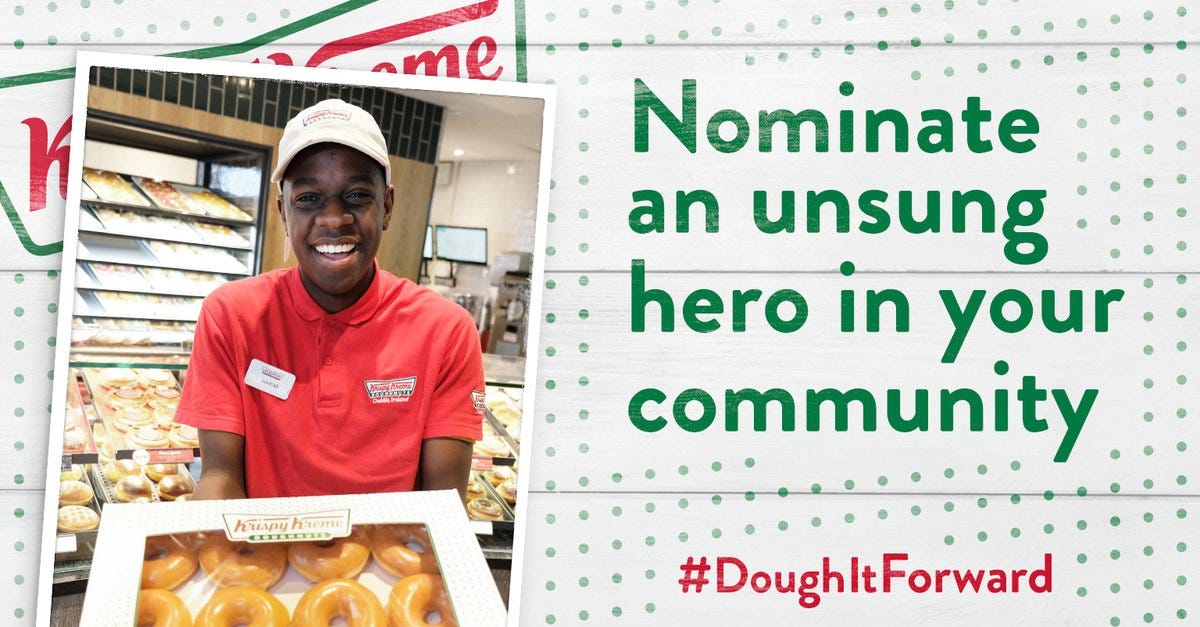 #DOUGHITFORWARD
Alongside our initiative to deliver half a million smiles through co-ordindated doughnut deliveries to our front line heroes, we're also saying thank you to all those unsung heros in the communities.
All across the UK, individuals and voluntary groups are going above and beyond to support one another at this time of need, so every week we're asking our fans to nominate someone they know who deserves a little treat.