Doughnuts Delivered
Nationwide Doughnut Delivery
We're delighted to announce that we have launched our nationwide delivery service, bringing our best selling doughnuts straight to your door.
We currently offer UK nationwide delivery, excluding Scottish Highlands, Islands, Ireland & Northern Ireland. In selected cities we offer next day delivery for orders before 2pm and in all other areas, the delivery service is 2 days lead time.
Even better, we're offering some delivery exclusive dozens for our delivery customers, including Kreme Filled, Assorted Ring, Strawberry Iced and a selection of personalised doughnuts with your choice of handpiped messaging!
For your peace of mind, our partner DPD delivers our delicious made fresh daily doughnuts in a fully contact free way, direct to your doorstep.
GIVE THE GIFt OF DOUGHNUTS!
Whatever the occasion and whatever you want to say - say it with Krispy Kreme!
Choose from our our dozens and half dozens, all delicately handpiped with your choice of message to show you care. You can choose from a range of pre-piped doughnuts for those special moments or write your own message on one or all of your doughnuts.
Don't forget, we're not able to pipe expletives, insults or brand names where you do not hold the trademark.
We currently offer UK nationwide delivery, excluding Scottish Highlands, Islands, Ireland & Northern Ireland.
DELIVERY EXCLUSIVE DOUGHNUTS
To celebrate the launch of our nationwide doughnut delivery service, we've introduced some exclusive delivery only dozens, including personalised doughnuts with handpiped messages of your choice.
Alongside our signature Original Glazed dozens, be sure to check out our Assorted Ring, Kreme Filled, Sprinkles and Iced dozens - made all the sweeter by our double dozen deals.
Check out some of these amazing doughnuts below!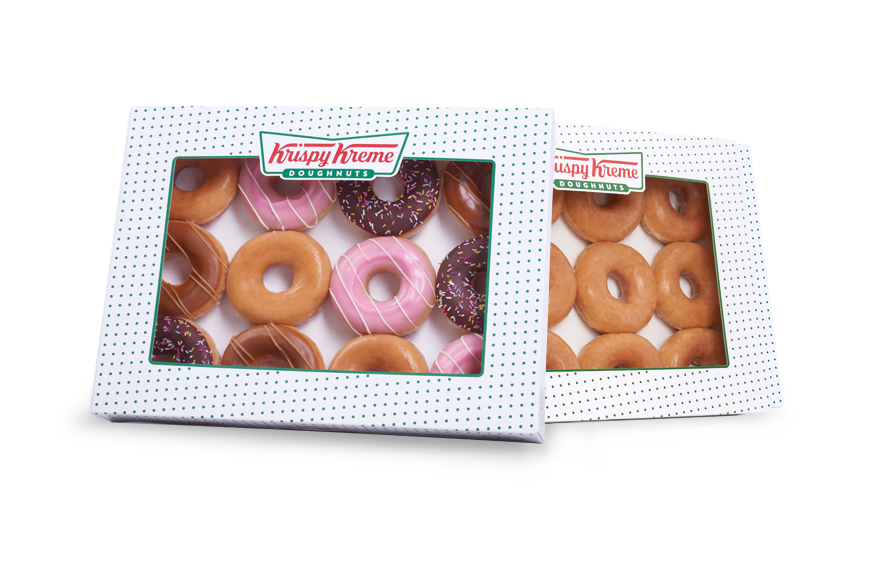 our bestseller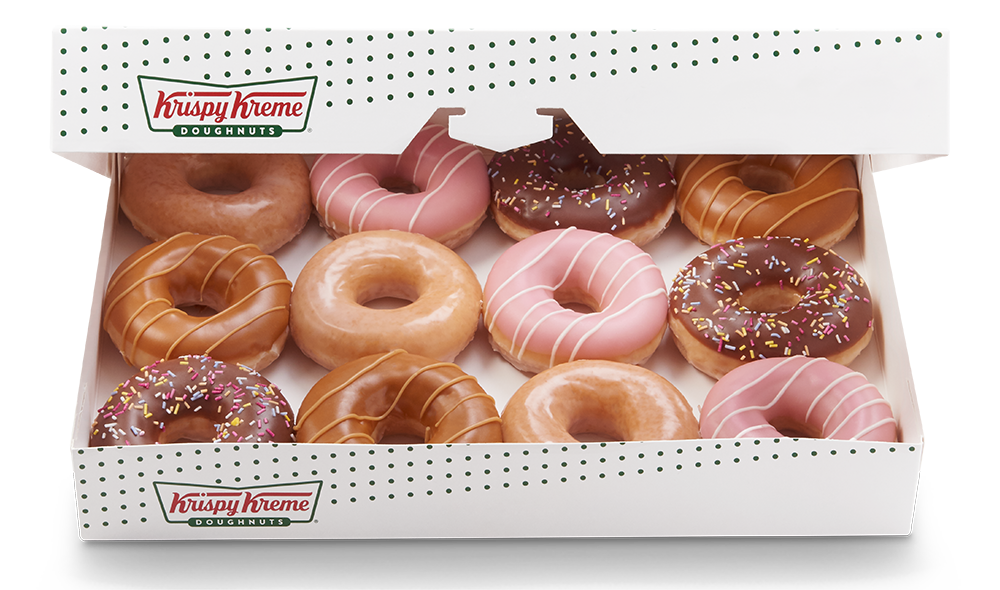 ASSORTED RING DOZEN
A selection of 12 of our greatest ring doughnuts including Original Glazed, Chocolate Sprinkles, Caramel Iced and Strawberry Iced, exclusive to our delivery customers.
NEED DOUGHNUTS NOW?
We hear you! Always made fresh daily, our on demand doughnut delivery partners offer you our delicious doughnuts direct to your sofa or workplace.
With three partners to choose from, you'll never have to wait long to get your hands on our range of dozens and smaller packs. We're delivering in selected locations nationwide.
Click below to check out our same day doughnut delivery partners and you'll be tucking into tasty treats in no time!