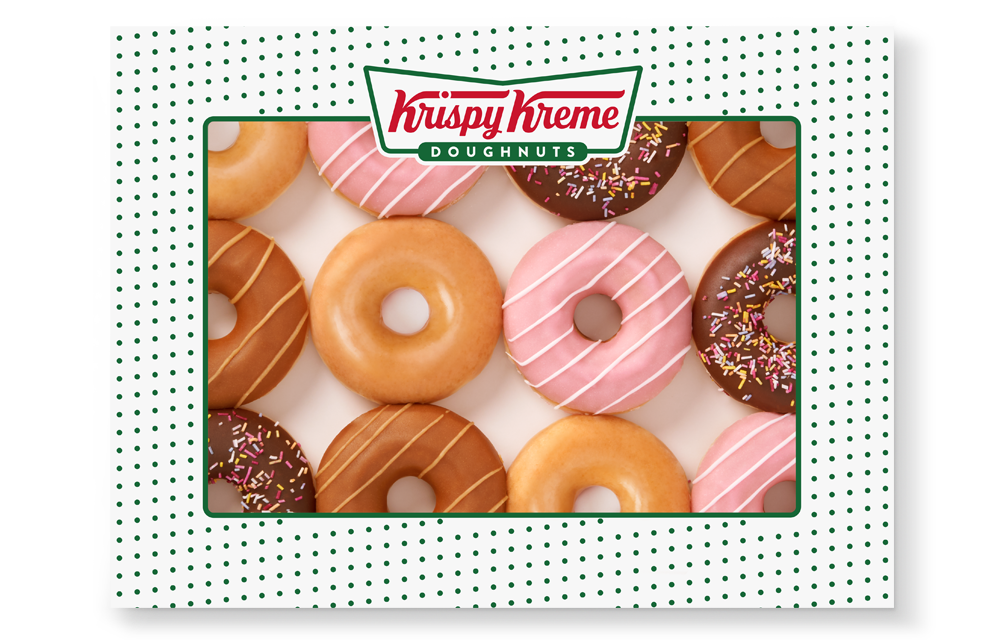 Order online exclusively for Nationwide delivery. 12 of our fan favourite iconic ring doughnuts, ready to share. Including Our Signature Original Glazed, Chocolate Sprinkles, Strawberry ring and Caramel Iced ring.

What is included in the Assorted Ring Dozen?

- 3 x fresh, melt-in-your-mouth ring doughnut, glazed to perfection. Original Glazed
- 3 x Chocolate Sprinkles doughnuts, hand dipped in chocolatey icing & covered in colourful sprinkles.
- 3 x Strawberry Iced ring doughnuts, hand dipped in a scrumptious strawberry flavour icing.
- 3 x Caramel Iced ring doughnut, hand dipped in a delectable caramel flavour icing. 
Why not choose the Assorted Ring Double Dozen and save 9%?                                                                                                                           
2916 Kcal, 12 servings
For further nutrition, allergen and ingredient information, please see our Krispy Kreme Allergen & Nutrition Matrix.
We recommend you choose the delivery date for the day you intend to eat your doughnuts. Best eaten on day of delivery.
All deliveries are made in a contact-free manner by our courier partner DPD. DPD are committed to making every parcel delivery carbon neutral, at no extra cost to you. They do this by measuring their CO2 emissions, striving to reduce them, and by offsetting the remaining emissions.
Available to safely gift nationwide with UK coverage excluding Northern Ireland and Scottish Highlands and Islands.
Please review your message before proceeding to checkout as it is not possible to change personalised orders after payment has been processed. 
Please note that delivery currently is available for up to eight dozen boxes or sixteen and a half dozen boxes per order. Customers that wish to order more than these amounts can place additional orders separately.